Croissants are so last year!
If you want to run a successful bakery all you need are
spiced bread
and morons!
Alan sold them only for 1G, way below their Real Value
TM
. I'm surprised he did not get whispers from other sellers!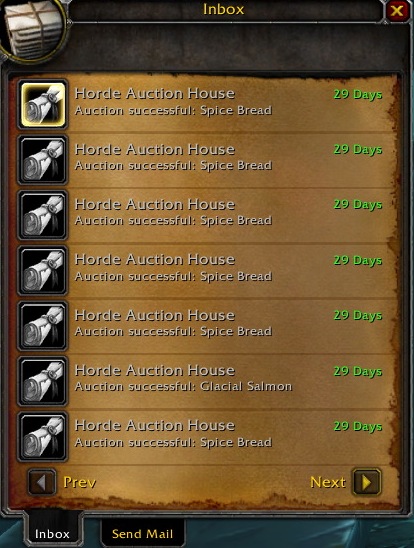 Xandros of Bloodscalp EU also made a moderate (678471%) profit on this wonderful item:
Wulfstan sold spice bread for their Real Value
TM
. Great job!
Kevan "spiced up" his bag business:
Khaas of Bloodscalp US (
his blog
) also did his fair share of selling bread:
Oops, Marcus wanted to sell Spiced Breads for 1G each, but mistyped for 10. So a stack cost 200G. Luckily for him, the demand for bread is inelastic if M&S is present:
Legal Desclaimer: Real Value
TM
is the registered trademark of Moronic Glyphsellers Inc.