While no sane man would claim that pilot skill decides large engagement instead of strategic decisions, there is a claim that there are skilled, goodfight-seeking PvP-ers
somewhere
who fight in small gangs against worthy enemies and win via skill.
However when I posted that Mining barges are
massacred
in highsec, commenters were quick to remind that mining in the various zones is very different.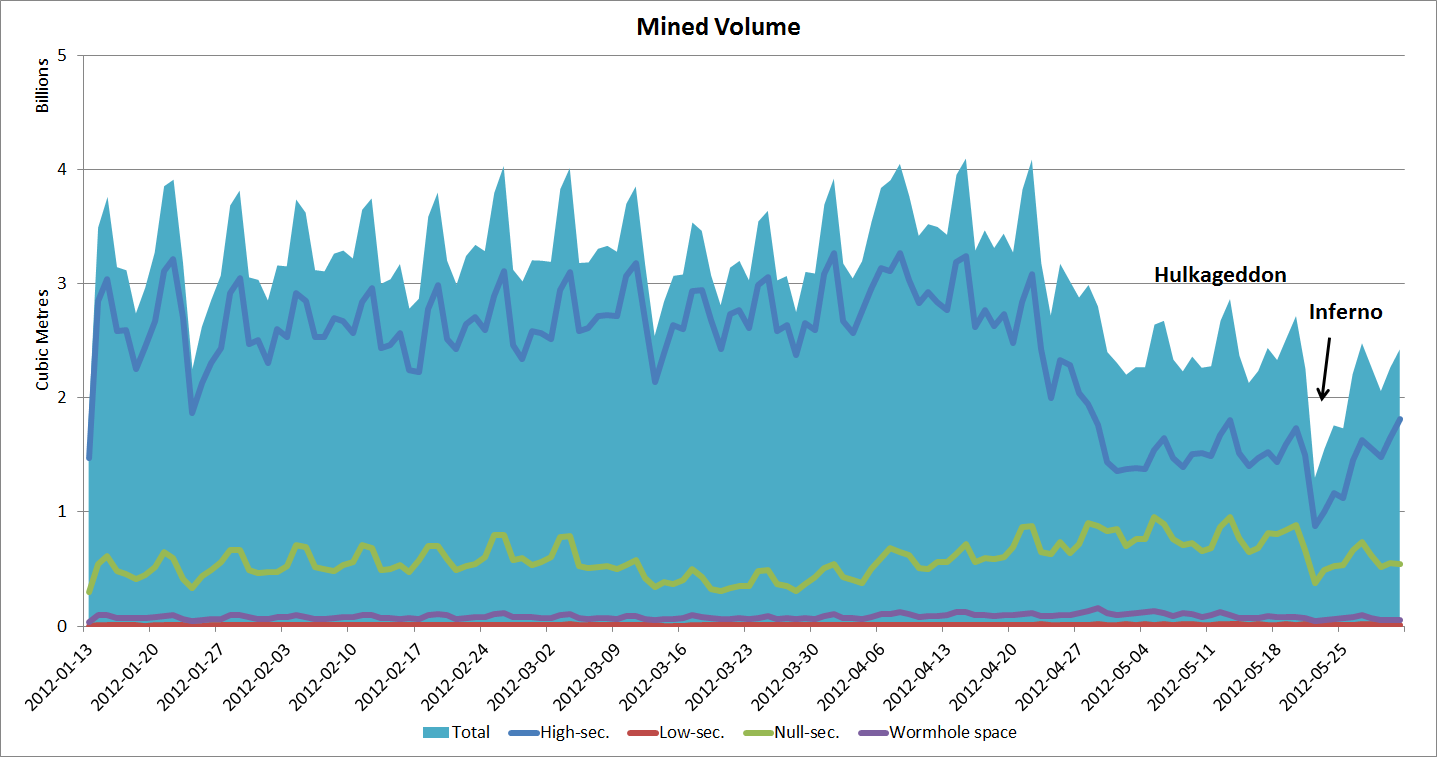 80-85% of mining happens in highsec, the rest in nullsec while WH and lowsec mining contribute by 1-2%. I guess the new interceptor changes will decrease nullsec mining significantly. Compared to the amount of mining, lot of ganks happen in lowsec and WH.
Killing a defenseless mining barge is ganking by definition and "no skill". Besides the facts that I'm a 12 years old, fat, beaten, gay, virgin boy with no friends, the mining community informed me that I have no skill and the only reason I'm in highsec is that I don't have what it takes to fight in low/null/WH. But if the failures like myself are all in highsec, who ganked the miners into extinction in lowsec? I mean, a skilled PvP-er looking for goodfights would surely not waste his time or sink so low to pad his killboard with a barge gank!
Ganking in highsec is harder than anywhere else, as Concord will arrive to blow you up and faction police chases you. You have to get a good warpin and kill the target in a small timeframe. In other zones you can just roam the belts in a 100 DPS Rifter and kill even a Skiff all by yourself.
The point is that the other zones are full of gankers who can gank easier. They hunted lowsec and WH miners into extinction and hit the null miners hard. While they fancy themselves to be "skilled PvP-ers", they do exactly what I do: gank. If you have mining barges, haulers and other unarmed ships on your killboard, you are just as much a ganker as I am. Except I destroy 10-100x more ISK than you in a month, due to less competition. After all a catalyst dual gank needs much more skill than just roaming the belts in a Rifter.
Of course I cannot claim that everyone outside of highsec is such. There can be "real PvP-ers" who ignore barges, exhumers, haulers, cyno frigs, shuttles, travel-fit capitals and only engage in "good fights". Maybe you are one of them. However we can be sure that these "real PvP-ers" are a tiny minority: if they were a significant group, they would exterminate the lowly, skill-less, pathetic gankers who sink to my level and attack mining barges.
So next time before you'd comment about "real PvP", look at your own killboard. If there are unarmed ships on it, you aren't less of a ganker than me. You are probably less successful ganker though! You have two options:
Start a new life and from now on don't gank and only engage in good fights, earning the status of "real PvP-er" that you now talk about without merit
Come out of the closet and embrace what you are: a ganker who kills weak and defenseless ships. If you want to do it well, destroying dozens of billions of ISK, my corp is waiting for you
---
The anti-tear of today is this beautiful sight: