The
ganking guild
is growing well, we already have 12 lvl 80, gearing up. We'll gank more and more. Tuesday comes a detailed plan how to gank with objective, measurable criterias.
But now, I present you a personal reason to join an anti-social ganking guild: massacre!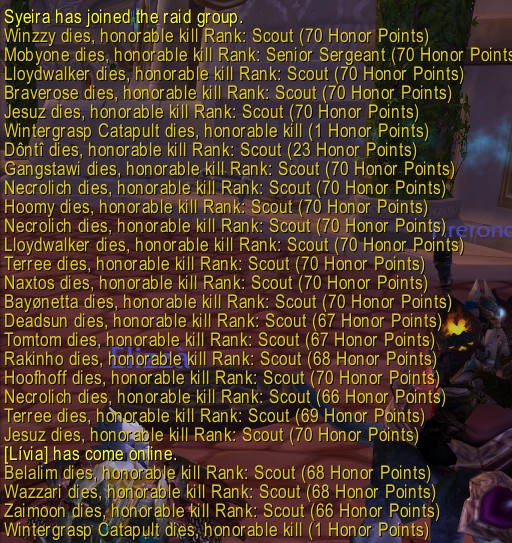 This is from Wintergrasp what is World PvP, affecting gankscore. Do you see any death? Because I just see kills. Imagine that 6K HP lvl 65 characters are swarming at you, all you have to do is oneshot them and you get 60+ honor for each! That's WG with 10+ stacks of
tenacity
!
And this is Sholozar Basin. Bots are so rampart here that you can grind them without pause:
Starring:
Historyy
, skinning bot, well programed
Resilece
, skinning bot, sometimes boter takes over and moves to another location. Bad program, tries to skin lashers
Fjuooll
, terribly programmed skinning bot, just res, and don't move, attacks only creatures in range
Gutrock
,
Grind
, not bots, but dumb enough to attack us after ganked
Deathwhish
from the guild "Internet Is For pWn"
Camoscino
learned that being AFK in a PvP realm is bad
Drulz
from "Obey me" was in the wrong place at the wrong time in the wrong faction of the wrong realm
If you want to participate the first and only impact-PvP project in WoW, join now! Both low levels (even rerolls) and lvl 80-es are accepted, rules
here
!
PS: as you can see, it takes lot of time for Blizzard to ban Historyy