To my previous solo posts I got lot of troll comments (deleted as not about the actual instance or soloing in general) "You have BoA gear lol that's why you can bash the instances". The old nonsense, gear makes the player. I
proved once
that gear upgrades are marginal after you reached the "decent blue / crafted epic" level. Of course socials tend to ignore it to protect their self-esteem: "I could do it if I'd have the gear". No you couldn't, you are unskilled, maybe un-efforted (like me for HC raiding), not ungeared! For low levels, let's see the "uber" BoA on lvl 20, lvl 26 and also a lvl 20 available dungeon blue:
Clearly overpowered right? Of course it's quite convenient that I don't have to farm low level gear, always have a safe fallback. But it's the byproduct of the fact that I raided once, and collected lot of badges. Leveling a character to max and farm instances for badges takes much more time than running the previous instance one more time for gear. The only difference is the trinket, since there are no trinkets on low level. But I seriously doubt that 8 SP will make or break the instance, especially since the blood elf racial, the ability to use
bloodthistle
gives 10SP.
On low levels the new spells make difference, not the gear. For example on 20 I got new immolate. Immolate was a "better than nothing" spell on 19 and my highest damage spell now. Coupled with the voidwalker's second rank torment (aggro spell), my DPS both increased on its own and no longer capped by threat. Practically my former 27 increased to 45. On the top of that, lvl 20 gives he new rank of health funnel it can be told that my power nearly doubled from 19 to 20:
The new healing spell with the new torment also gave the VoidWalker huge tanking capacity. When I fought Odo the Blindwatcher, a rare elite, Deathsworn Captain joined the fight. Still, I could kill them all, in a 5:30 long fight, keeping most of the bats and the two elites on the Void, healing him and healing myself with bandages: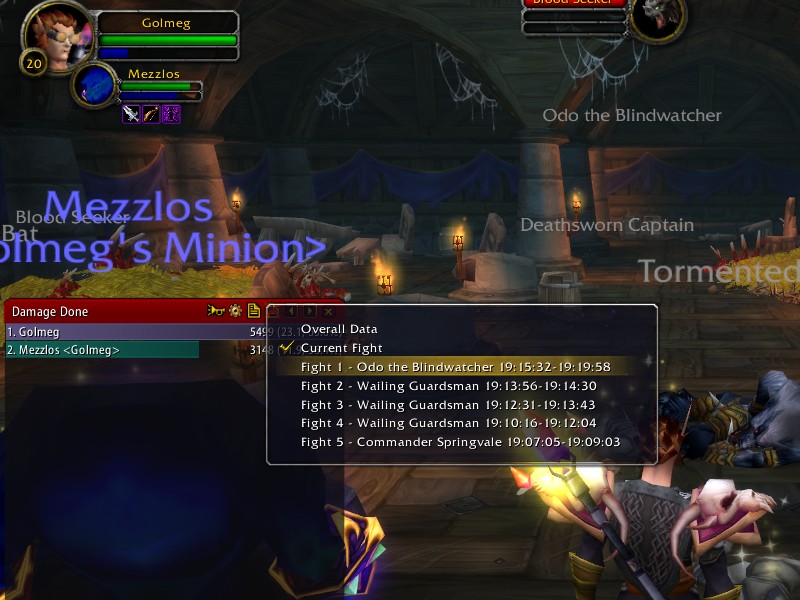 The other bosses were nothing worth mentioning, my only death came when a trashpack containing a Son of Arugal, a worgen and 2 wolves aggroed together.
Arugal doesn't reset aggro between jumps. But his shadowbolts hit hard and also he is capable to turn you into worgen and the PvP trinket doesn't help. So the highest priority was keeping safely below VW aggro and keep funnel up every time he cast his bolt. Tip: if he targets you, and starts casting the bolt, LoS him immediately. The fight was slow but sure:
Note: I made a"
solo table
" post, as table of contents for my soloing/duoing adventures.
Note2: I've changed my commenting rules, from now on the posts will turn un-commentable after 3 days. So you can comment this post today, tomorrow and the next day, but not after that. The existing comments remains visible.